BASIC ASCENTS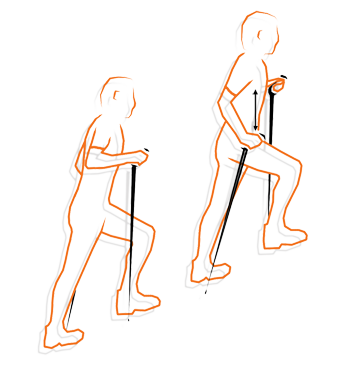 Where possible aim to place the shaft tip towards the mid-foot keeping your elbows back so your forearms can move like pistons up and down at your side - (and not stretched out in front). As your elbow / arm straightens by pushing down on the handle, the trunk is thrust upwards...this arm-lever action is similar to the legs positioned almost directly underneath the trunk instead of pushing-off from further behind as they did when walking on the flat. Try to keep the top of your head and trunk almost vertical, walking-tall and pushing directly upward towards the sky; this better core posture allows for maximum chest expansion of the lower ribs for easier breathing (especially important at altitude). Aim for a smooth rhythm, left arm working with right leg and vice-versa. On steep ground try moving up the slope along diagonal lines, zig-zagging where possible - even for just a few steps. On awkward rock inclines search for tip placement to the side for a better leverage position; only stretch forward to haul yourself up as a last resort (very rarely use the EVA sleeve).


Always aim to keep the span between shoulder tip to shoulder tip as wide as possible i.e. not rounded forward or arched back.
| | |
| --- | --- |
| | Please note Adobe Flash is required to view these animations. |
With Pacerpoles there is no need to adjust shaft length from its personalised height; only consider this when on very steep almost scrambling terrain (and then you should be considering stowing your poles anyway).
Leaning forward will only encourage a stoop and this poor posture makes it harder work for your muscle-and-bone levers, and harder work to breathe. Instead try to keep the top of your head and trunk pushing-upwards almost vertically towards the sky. The thrust is coming from your legs positioned almost directly underneath your trunk (rather than pushing-off from further behind as they did when you were walking on the flat). Similarly the vertical thrust down of your arm's action wants to be at your side, parallel with your trunk -so your hands move like pistons at your side (not out in front) as they push down on the handles to thrust you upwards.